When is the best time to visit Ithaca?
When is the best time to visit Ithaca?
Visit Ithaca any month of the year and you will never be part of a crowd. Ithaca has no cruise ships and no crowded beaches. Athens based Ithacicians will return for their summer break in August but there are still many deserted beaches to be found.

April & May: Normally mild with lots of sunshine and the one-off shower. The olive groves are carpeted with wild flowers – ideal conditions for trail walking. Rivers and waterfalls that have dried up in the summer months are flowing.

June: Pool and sea temperatures are comfortably warm and the views to offshore islands are crisp and clear.

July & August: Higher temperatures, warmer seas and more visitors to the island.

September: Perfect conditions for escaping the crowds but still with high temperatures.  

October: similar to May.
Are beaches sand or pebble?
Apart from some beautiful sandy beaches in Afales Bay (only accessible by hired boat), all beaches on Ithaca are pebble and fine shingle. Most of the beaches are natural (no sunloungers etc) and usually deserted. The following beaches have "cantinas" (serving drinks & snacks): Filiatro, Vathy, one of the beaches in Kioni Bay, Aetos, Marmaka, Gidaki, Polis Bay. Polis Bay beach has sunbeds and umbrellas, toilets, showers, kayaks for hire – all supervised by Takis the beach manager .
Kioni Beach

Afales Bay, West Coast

Aetos Bay
What is there to do for teenagers?
Life on Ithaca tends to be low key. There are a few music bars on the Vathy waterfront but the other villages are for those wanting a quieter alternative to city living. Family activities on offer include boat hire, kayaking & paddle boards at Filiatro Beach just outside Vathy, scuba diving, snorkelling trips; hiking trails, electric bike hire.
Eating out costs?
There is a good selection of tavernas in all the island's villages plus a few off the beaten track. In the main they will be traditional Greek cuisine with Mediterranean twists & fusions. The average cost is around 30 euros per person for a 3 course meal including house wine – freshly caught fish however, will be more expensive.
There are some excellent and very innovative waterfront tavernas in Frikes.
The house wine offered in tavernas is usually very good but there are now some very good Greek wineries on so well worthwhile trying them.
Is it easy to buy fresh fish?
You can often buy fresh fish direct from the fishing boats on the harbour front during the mornings. You will also find a fishmonger in Stavros and Rigos (the man with the fish van) sells in all the villages.
Are supermarkets well stocked?
You will find everything you need. Most also sell fresh fruit and vegetables. Many have a butcher's and a deli counter. British products are readily available, although may be more expensive.
Do supermarkets sell gluten free/dairy free products?
The majority of the larger supermarkets sell a good range of dairy and gluten free products. Supermarkets in coastal resorts will also generally sell them, although the range may not be as good as in the larger supermarkets.
Do supermarkets deliver?
Most supermarkets and minimarkets are usually happy to deliver to local properties providing you spend a reasonable amount in their shop.
Are pharmacies well stocked?
Yes – and more treatments available over the counter than in British chemists. You will also find well known brands of baby formula and more specific baby supplies that may not be stocked in the supermarket such as creams, dummies etc.
There are 3 chemists: 1 in Stavros and 2 in Vathy.
Are credit cards widely accepted?
Most shops, supermarkets and tavernas now accept credit/debit cards but you'll get a bigger smile when paying in cash.
Best parts of the island to stay?
Ithaca's east coast hillsides of olive groves, pine and cypress forest, shelve gently to small coves – with distant views of the Greek mainland. Ithaca's west coast is steeper and has dramatic views to the east coast of Kefalonia.
The seaside villages of Kioni and Frikes are picture postcard pretty. Vathy is more of a working town but has beautiful views across the bay to the east coast of the island.
The drive from Frikes, in the far north, to Vathy, in the south, takes around 30 minutes so wherever you stay, you are never far from a beach or village.
How child friendly is Ithaca?
Greeks love children and Ithacicians are no exception.
Very few pools are gated and some gardens can be uneven with prickly shrubs. Most tavernas have a childrens' menu or are happy to provide child-size portions.
Is Ithaca good for boat hire?
There are boat hirers in Vathy, Kioni and Polis Bay. A speedboat licence needs to be shown for hiring a boat with an outboard over 30HP. Hiring a boat is the best way to find your own private beach and to explore the coastline.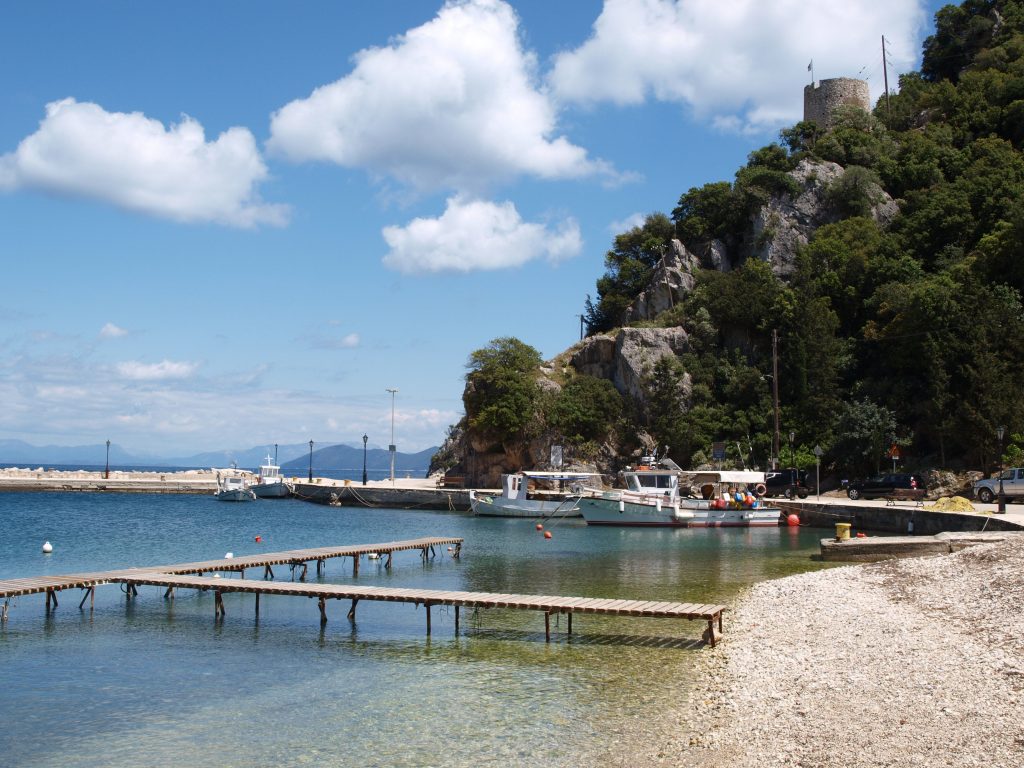 Are there good medical facilities?
There is a Medical Centre in Vathy and a smaller medical centre in Stavros. The GP and Head of Vathy's Medical Centre is a good heart surgeon!
Ferry service to other islands?
There are ferry services connecting Ithaca with Patras and Killini on the mainland, Kefalonia and Lefkas. The ferry from Piso Aetos on Ithaca to Sami on Kefalonia takes just 30 minutes – alternatively, private speedboat charter takes just 15 minutes.