The Ionian Islands have the most wonderful, magnetic energy… warm air, blue skies, turquoise waters, hillsides full of olive and cypress trees, fresh seasonal locally grown food and the sun to nourish the soul. A perfect escape for wellness and yoga practice.
If you are a yoga/pilates teacher looking to host a retreat we believe we have some of the best properties in the Ionian. Our partnerships with the retreat owners will allow you to create the most extraordinary experience for your guests.
How it works…. we can help you decide which island is best suited to you and give you an idea of the cost. We have a selection of properties specifically designed for retreats with a variety of group sizes. We will then put you in touch with the owner of the venue or our island manager so that they can help you plan everything.
There are some incredible yoga and pilates teachers who live on the Ionian islands. If you have booked a property with us and wish to practice whilst on holiday, we can put you in touch with a teacher for a private 1-1 class or small group classes.
Take a look at some of our favourite retreat properties….
Kefalonia
Villa Olivestone is a private, secluded and peaceful hideaway for those wanting a special escape from a busy world outside. The property lies in a 32-acre private estate above the sandy beaches of the south coast, in the foothills of Mount Aenos. The property sleeps up to 12 guests in comfortable accommodation; there are many areas for social gatherings or quiet spots for total relaxation.
The villa comes with a cook, Yolanda who will prepare wonderful fresh dishes for your retreat guests. Other activities such as massage therapies and skippered boat trips can be arranged as part a tailor-made programme.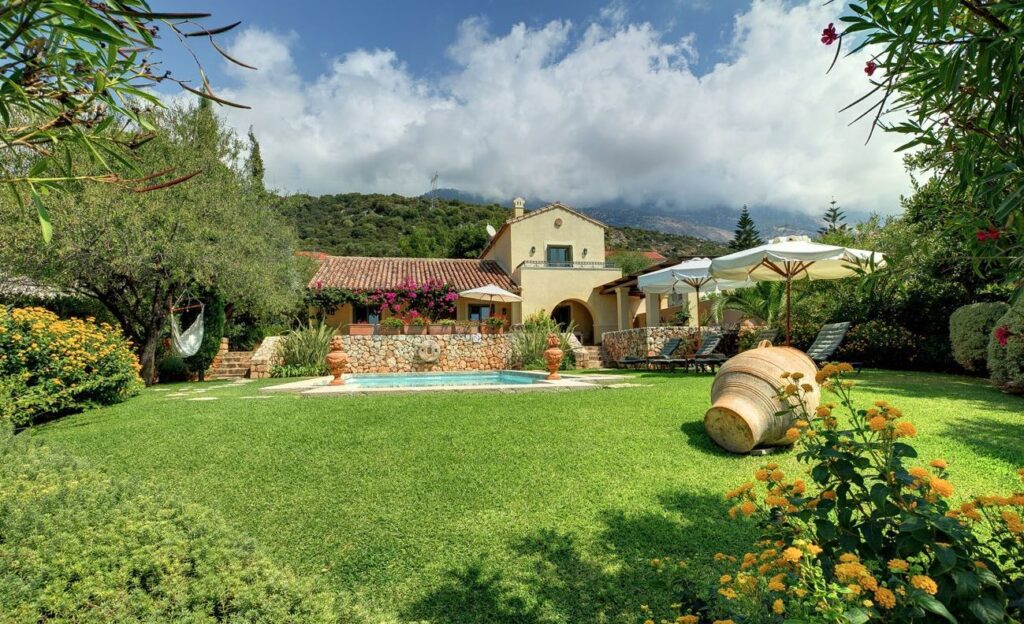 Paxos
Paxos is lucky enough to have (in our opinion) one of the best Yoga teachers in Greece. German born Sandra has lived on the island for many years, she speaks a variety of languages including, German, English and Greek. She teaches a mix of Ashtanga, Hatha and Vinyasa flow, inspired by her practice in Berlin and India. Many of the Watrous family have attended her classes and we think she really is a special teacher!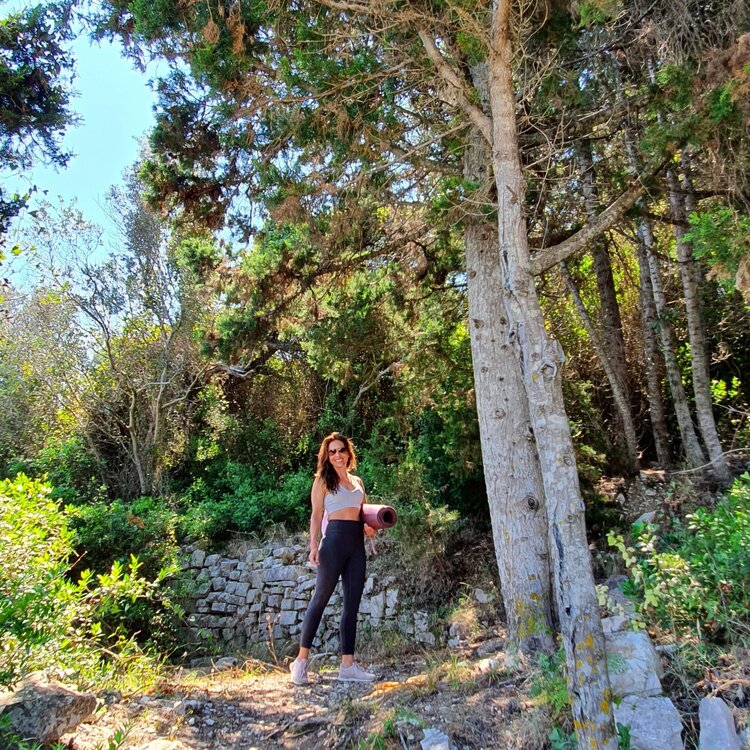 Sandra also offers a range of other activities including dance, meditation, Pilates, body toning, hit, aqua fit and SUP yoga. Sandra does open classes and 1-1 private sessions either at your villa or in her own yoga studio.
Our suggestion would be to rent the fabulous Velianitatika Retreat, as this happens to be next door to Sandra's studio, in the sleepy village of Velianitatika. Perfect for a group of yoga friends who want something more personalised and bespoke.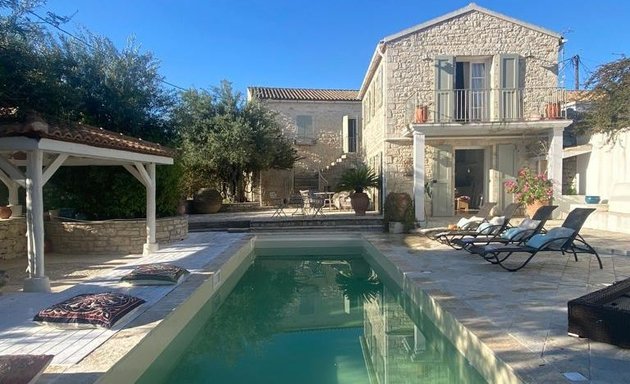 Lefkas
Vassiliki: Five spectacular villa; Icarus, Angeliki, Ismini, Grigoria and Villa Of Light sit perched high above the sea on the south coast looking down to the port of Vassiliki. The views across Vassiliki Bay and to the islands of Ithaca and Kefalonia are breathtaking. There are individual swimming pools for each villa, a large yoga studio and a retreat chef. The retreat can accommodate up to 25 guests (including teachers). The villas can be booked individually or all together depending on retreat size. Massage, Mediterranean cooking lessons, sporting activities, walks/hikes and day trips can also be arranged.
Geni: Surrounded by olive and pine trees and wild myrtle bushes, sit three beautifully designed villas; Antonella, Rosetta and Stefania. They have a special hilltop position with dramatic views from the pool terraces across Vlicho Bay. A variety of balconies and terraces cater for both sun and shade and each property has a private infinity pool. Above the villas amongst the olive groves overlooking Dessimi and Vlicho bay is a closed yoga studio surrounded by glass windows. Yoga can also be practiced in the open studio which overlooks the infinity pool and Vlicho bay, It is 70 sqm and crafted to host a group of 24 people.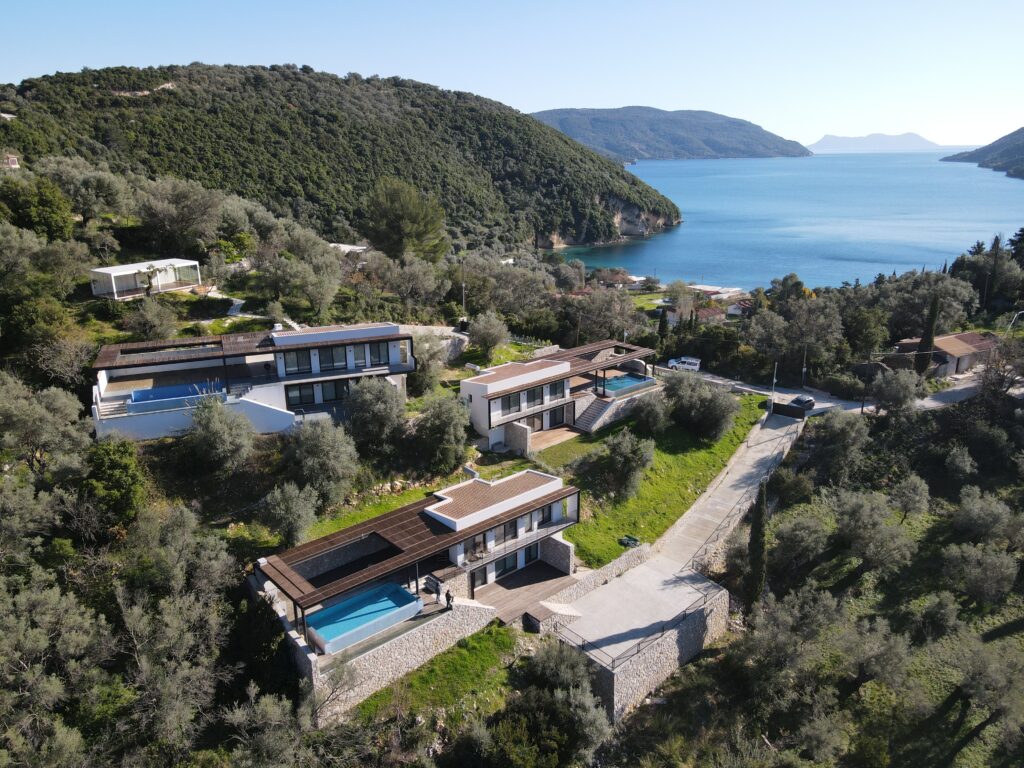 Each villa sleeps 8 guests, so a retreat capacity of up to 24 (including teachers), the villas can be booked individually or all together. Adonis, a fellow yogi is the retreat chef, he cooks traditional Greek dishes or can cater to a vegan/health menu. Tavernas and Dessimi Beach are also within walking distance.
Ithaca
For a smaller group The Loutsa Retreat is perfect. The villa sleeps up to 8 guests and has total privacy and tranquility. Large terraces open out to beautiful gardens where it is possible to have sun or shade throughout the day. A curving swimming pool sweeps through a small olive grove, bordered by hedges of lavender.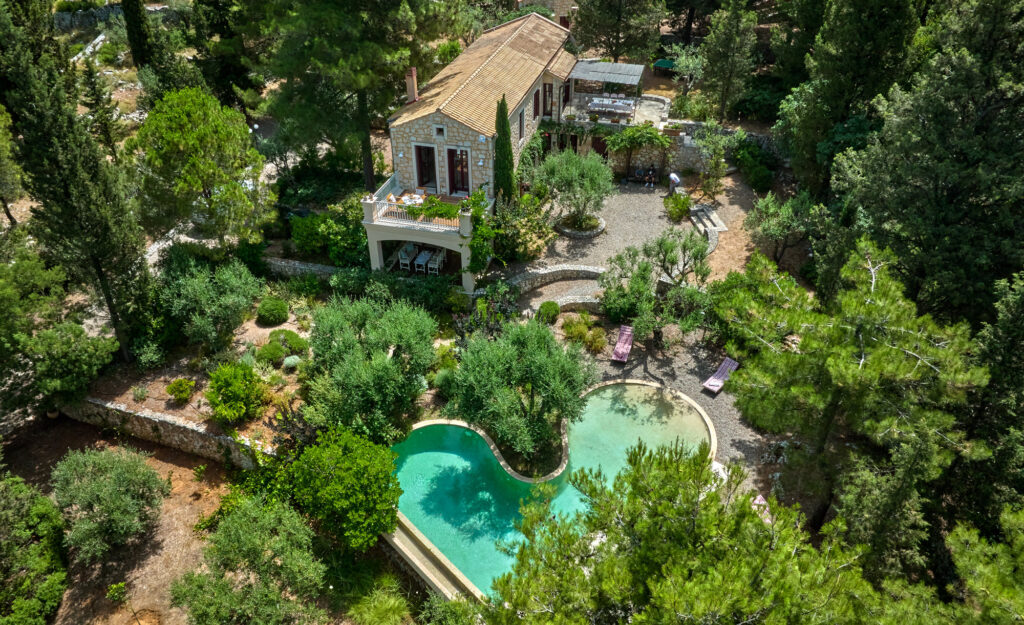 A cook can be arranged for your retreat or if you would prefer to provide your guests with bed and breakfast only, the owner offers a complimentary organic breakfast delivered to your door each morning. The retreat is a 3-minute walk to Loutsa Beach and a 10-minute walk to a waterfront taverna and the port of Vathy.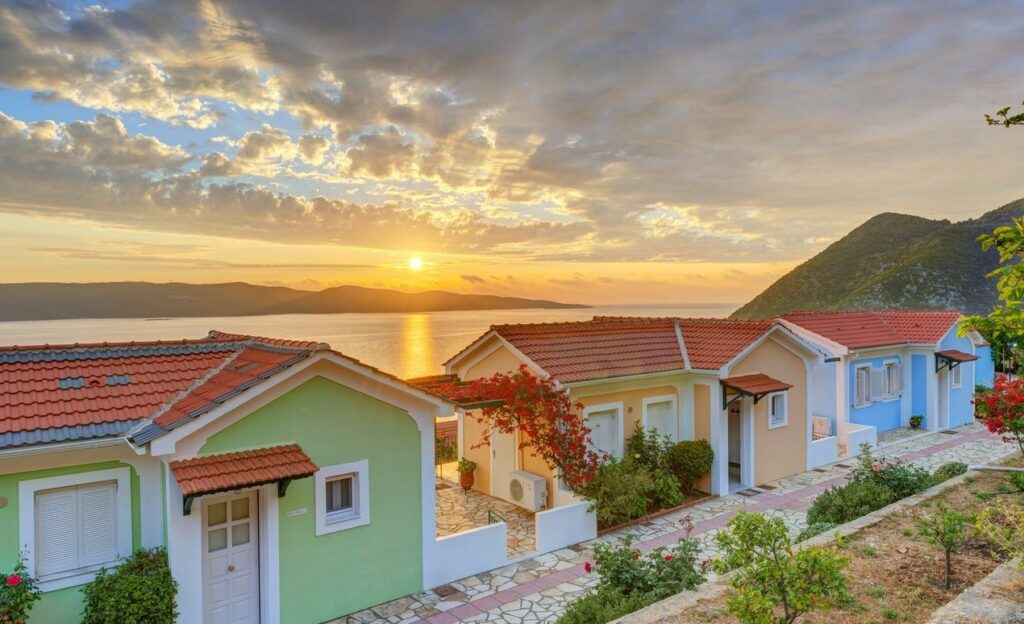 The five Sunset Cottages are perched up high on Ithaca's west coast, two kilometres south of Stavros village and just a five minute drive to Polis Bay beach. Each cottage sleeps 2 with a sea-facing terrace and a small garden of citrus and peach trees. The larger terraces are perfect to practice yoga and there is a swimming pool for all to enjoy. The cottages would be perfect for a smaller budget and retreat.
Zakynthos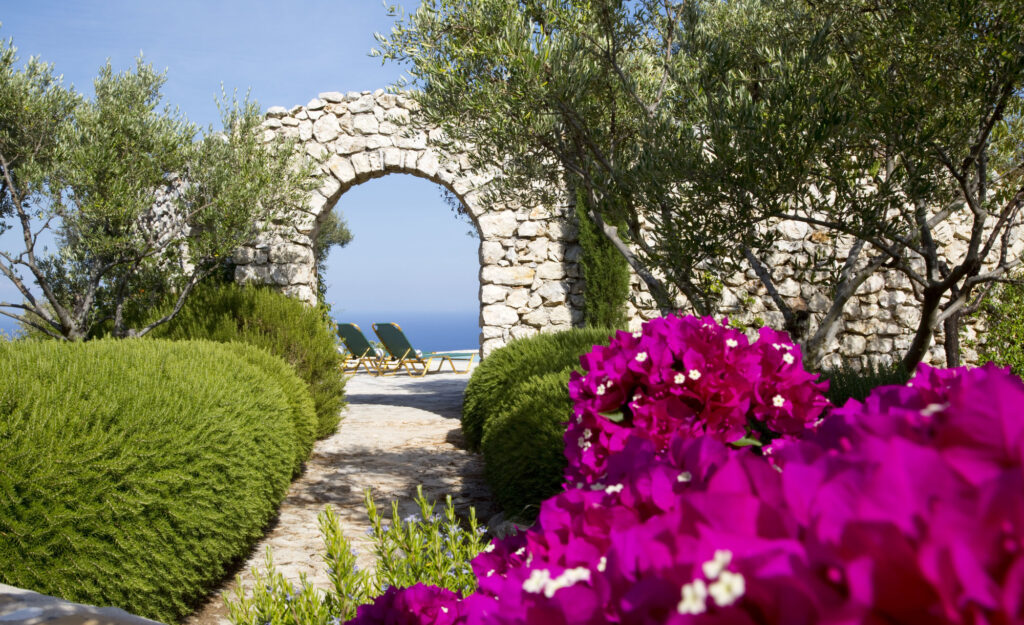 Kalokeri is a beautifully elegant villa set within 4.5 acres of private land. It has dramatic views across the sea to Kefalonia and the Greek mainland. The property sleeps 12 and has an infinity pool, a stone Pool House, beautiful gardens and terraces for relaxing, activities including table tennis and now a fantastic new yoga deck! The deck looks out to sea with a spellbinding panorama. Sunrise meditation or early morning yoga is a truly magical experience at Kalokeri. Further activities including massage therapies and a retreat cook can be arranged.
Corfu
Morning yoga on the sand or amongst the olive trees is on offer at On the beach Alpha, Beta & Gamma. These three villas are less then 80 metres from the beach of Milou Bay. Villa Alpha sleeps 10, Beta and Gamma each sleep 12. All 3 villas have modern comforts inside and outside – the owners describe the overall design and décor as "boho-luxury". Elements of the natural surroundings have been incorporated to create the feel of a countrified retreat by the sea.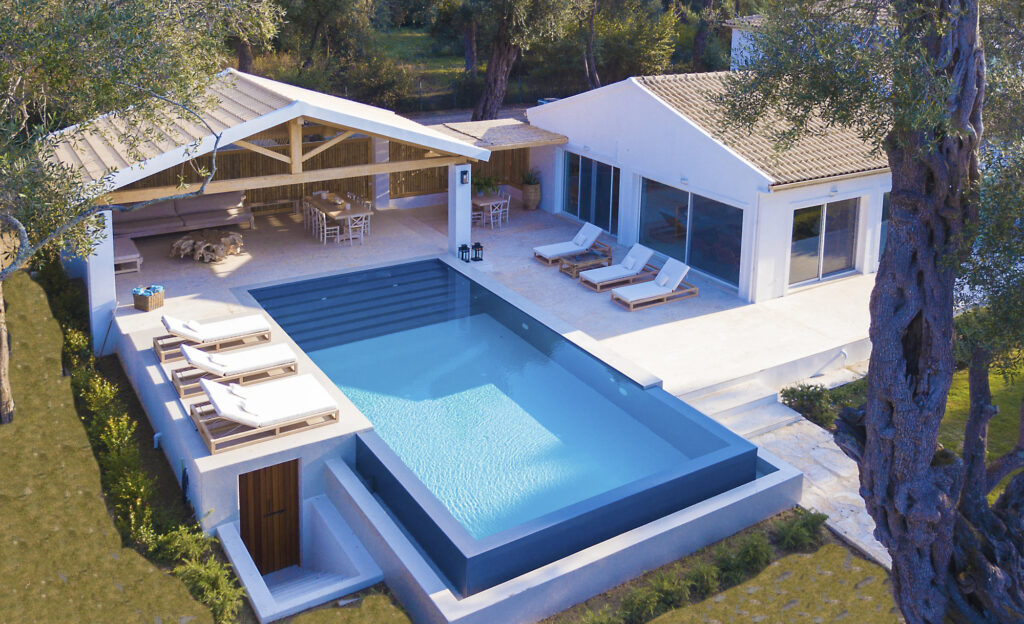 If you are interested in booking any of the properties above for a future retreat and would like to know more – call or email us.
Namaste,
Catherine x