Archie is now 19 months old and has been travelling with us on our trips to Greece since the age of 6 months! Our little man has done several flights including one long haul and he really seems to be getting the hang of it now… as do we! Alex and I often get asked how we find travelling with a young baby/ toddler. So, I thought I would share with you some of our tips, including useful gadgets and good advice given to us along the way.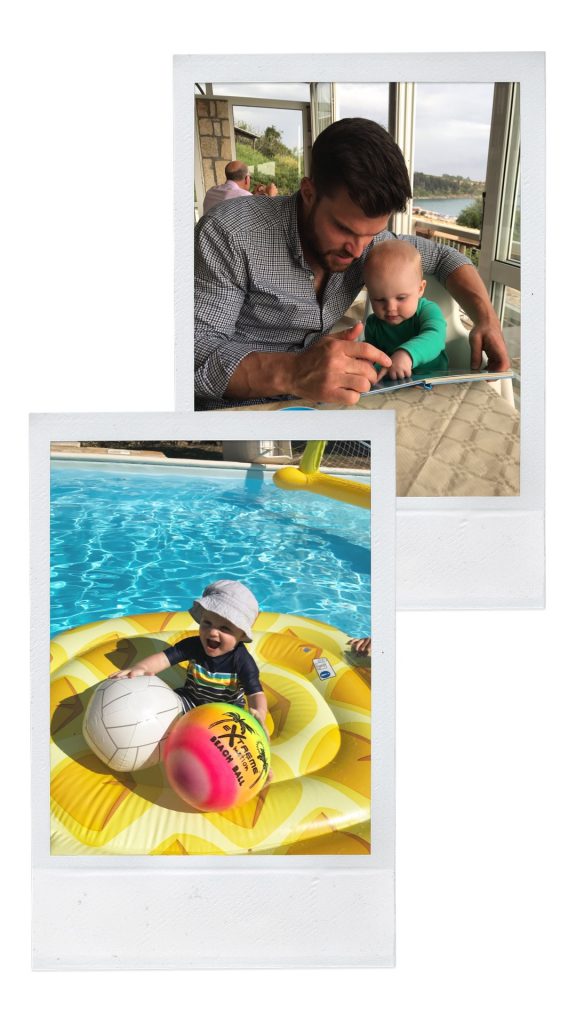 The Flight
Firstly, try not to over-fret! 90% of people on the flight have probably had children of their own or have children in their family so they know it isn't easy travelling with little humans. Cut yourself some slack – if your baby starts crying don't worry, try and stay calm – your baby will sense your anxiety and it will only make things worse.
Snacks, snacks and more snacks. Now Archie is a toddler we pack as many snacks as we can. We try and go low sugar so he doesn't get too excited on the flight!
If your little one is walking, try and tire him/her out as much as possible in the airport. If they want to walk up and down the aisle on the flight – stay close but again don't worry about the occasional passenger scowl – most people understand. A three hour flight to Greece is a long time for a child to sit still.
If your baby is on formula you can pre order this from Boots up to 5 working days before you fly and pick it up in the terminal … it's really handy. You can also do this with baby food too!
To help with ear popping on the flight a friend told me to try to feed your baby their milk at take-off and landing. The sucking really helps regulate the pressure.
Fun pack … we always pack a little fun pack for Archie full of some of his favourite toys along with some new exciting ones to keep him busy on the flight and for the holiday. But don't forget to hold some back for the flight home!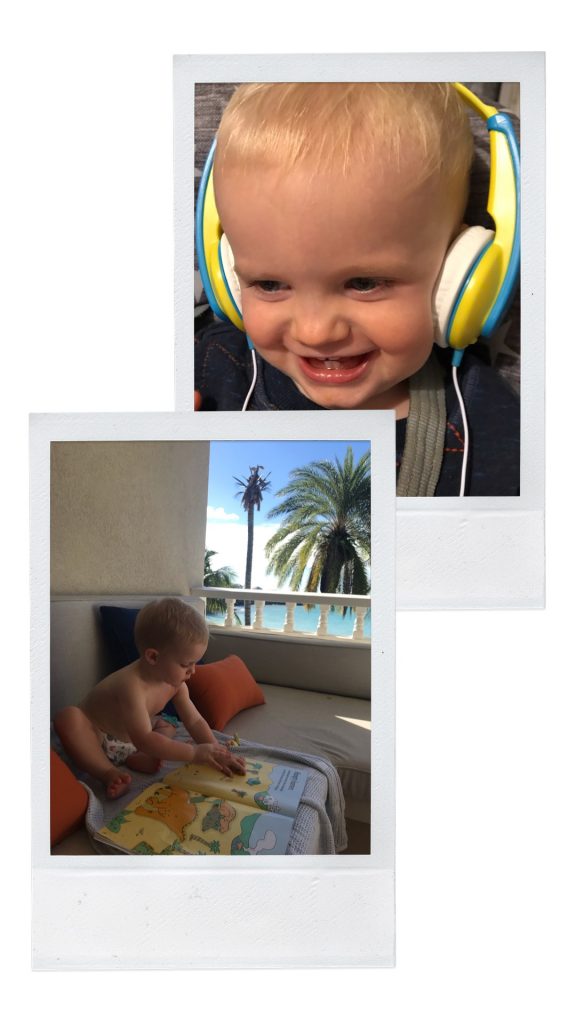 Our favourite holiday must-haves and gadgets
Bullabaloo muslins – these muslins are great and so versatile. I particularly like the large size. I used mine for snuggling Archie up on the plane and when he was small they were great for creating shade or as a blanket at the beach. https://bullabaloo.com/collections/new-muslin-swaddles/products/muslin-swaddle-blue-cloud
Once out of a pram it's a great idea to invest in a lightweight travel pushchair. Our friends who also travel a lot recommended the baby jogger buggy, it folds up easily and has a travel bag with straps. http://babyjogger.co.uk/product/city-tour/
Greek tavernas will make you and your children feel welcome. Many have highchairs and some even have toys/crayons etc. Sometimes we like to go off the beaten track so we take a travel highchair with us – it's great for beach picnics and can be strapped to any chair. https://summerinfant.co.uk/product/pop-n-sit-booster/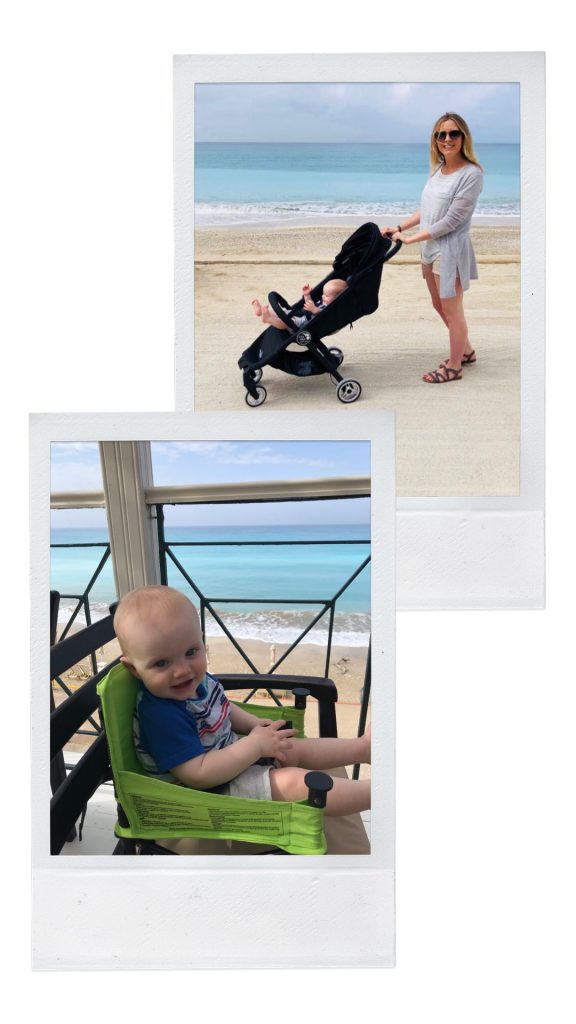 Our top toddler friendly villas
When choosing a holiday villa it can be hard to know which ones are toddler-friendly. Here are our Ionian island favourites ….
Paxos
Elissa– sleeps 6. The property is all on one level with plenty of outside space and shade. Also within walking distance of Lakka bay which is great when you have a buggy.
Kefalonia
Artemis–sleeps 5. The villa is all on one level with lots of grass for burning off some toddler steam!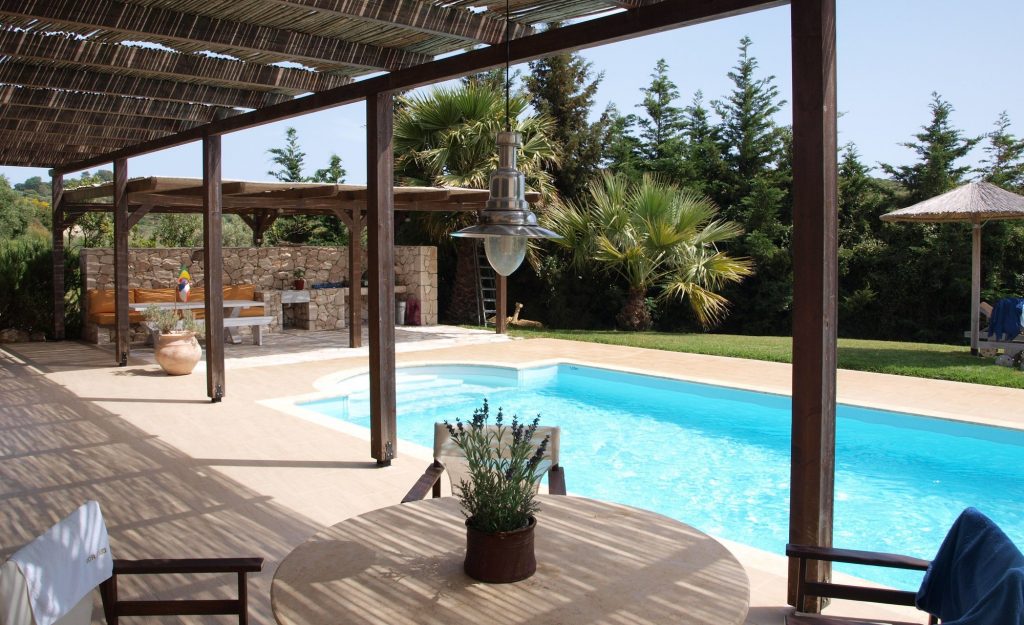 Ithaca
Limonia – sleeps 8. A great location in the centre of Vathy port close to a children's play-park. The villa also has an enclosed, fenced-off pool area.
Corfu
Kalami – sleeps 4. A spacious modern villa in large grounds with plenty of grass around the pool.
Lefkas
Nicholetta – sleeps 4. The villa has an enclosed lawn and swimming pool area. It is a 10 minute walk to Agios Ioannis beach which has a few tavernas and a sheltered swimming area at one end. Lefkas town is also only a 10 minute walk via a flat track.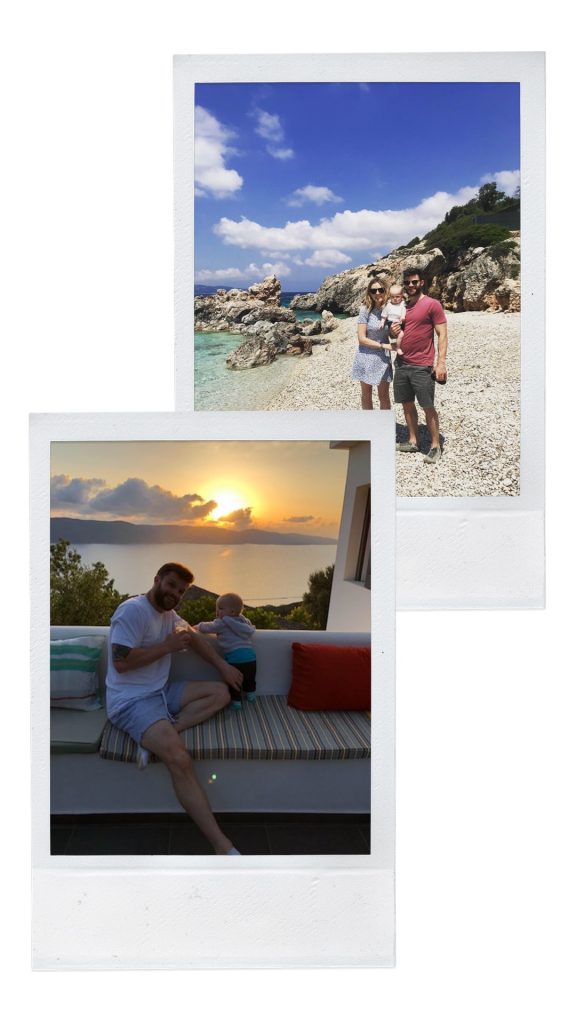 If you would like any further advice you can always give us a call or email. We have been to all our villas and can help pick the best one for you and your family.
Catherine xx