As a family we enjoy visiting the Ionian islands for so many reasons… their hidden beaches, the glorious weather and the friendly people but one thing we most definitely love is the FOOD!! During the Winter months we spend most of our time in the office based in the UK. In January we start dreaming of our Spring and Summer travels around the islands. There is always talk of "oh I can't wait for fresh Calamari" or "let's make sure we find that Greek wine again".
Thoughts of enjoying a waterfront meal on a balmy Greek Summer evening – whilst only half way through a grey British Winter, we decided it might be fun to have a Greek foodie evening and recreate some of our favourites!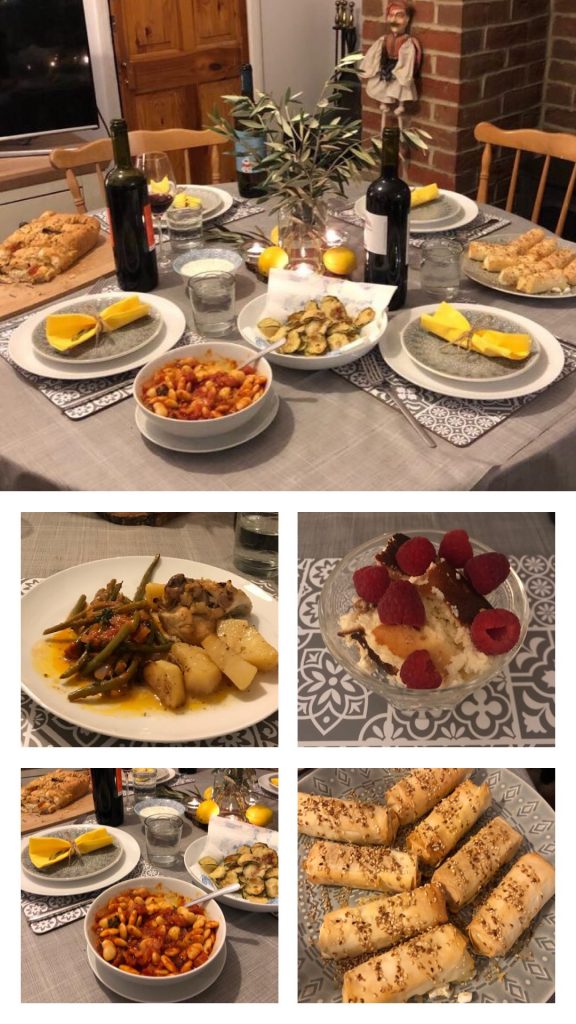 So, armed with our Greek recipe books and the internet (plus a few secrets gathered over the years from Greek friends) we started preparations.

Starters were my domain, I made baked feta wrapped in Filo pastry with sesame seeds and honey, this is my absolute favourite dish and was very simple to make.
Alex gave me a hand in the kitchen frying courgettes and making Tzatziki while I attempted to make his favourite Yigandes (Greek baked beans). With the table set and a few Greek Rebetika favourites playing, we started to feel like we were back home on Paxos.
Viv and Dave arrived with the main course – a roasted chicken dish with lemon and potatoes (Kotopoulo Lemonato). Dessert, an Athenian baked cheesecake, was made by Auntie Lizzie.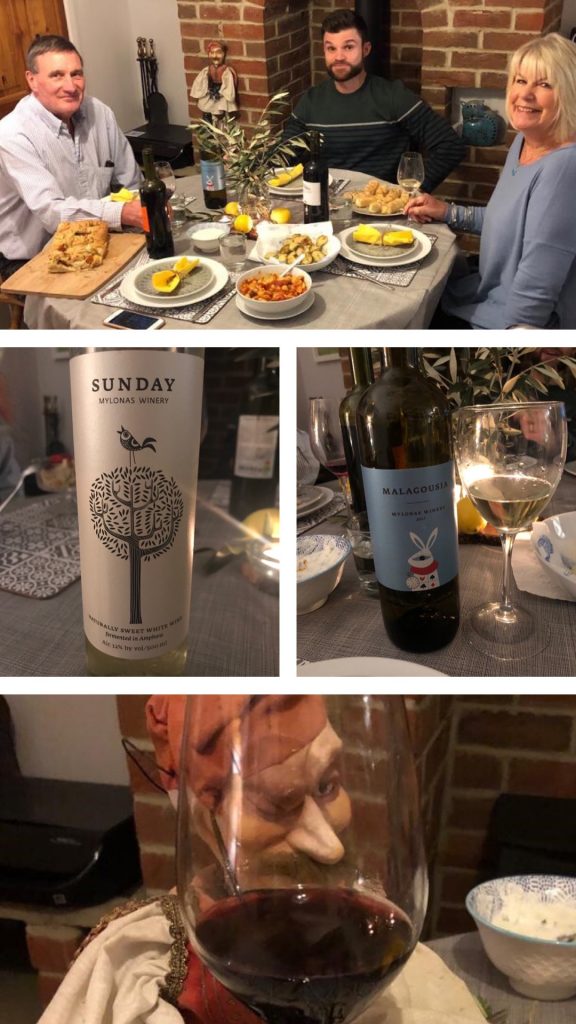 Greek wines were ordered from Maltby & Greek, a London based supplier of a wide range of Greek food and drink. Our favourite was a 'Malagouzia' from the Mylonas Winery: light with fresh fruit notes. We would also recommend the dessert wine – another from the Mylonas winery: 'Sunday, Savatiano-Aidani' – a very pleasant, delicate dessert wine which was far too easy to drink!!
It was a great evening filled with lots of laughter and yummy food…hopefully it will suppress our longing for Greek food and balmy waterfront evenings until the Spring.
Catherine x