Ionian Villas is 3 years old. We have so far booked Ionian island properties for just over 1,500 people and we are now arranging villa holidays for their friends and friends of friends.
We wish you a Healthy & Happy New Year and hope to see you again sometime.
We have added some new properties for 2015: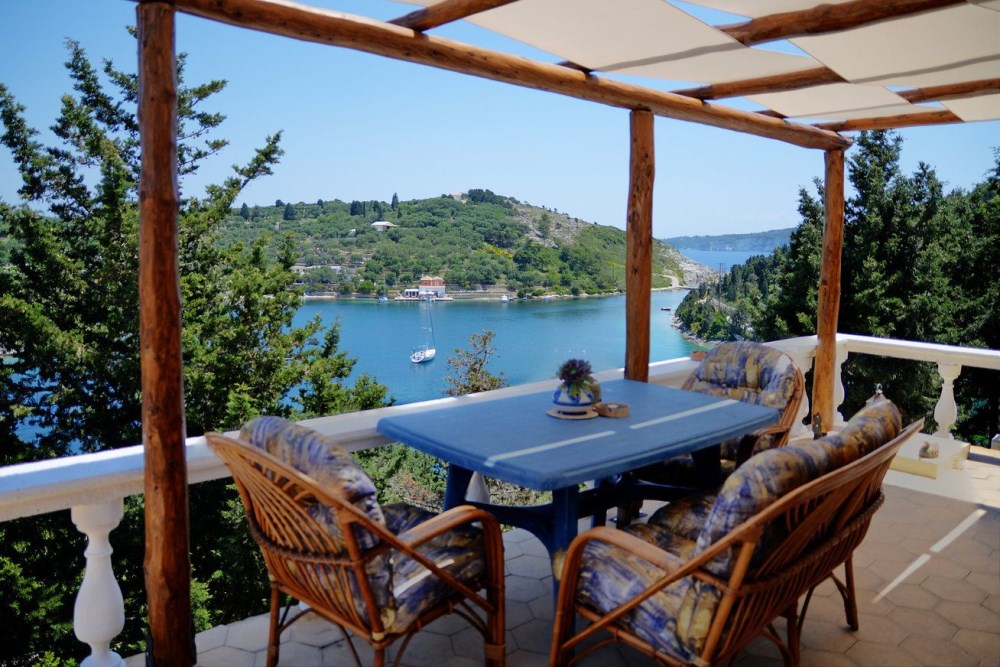 On Paxos: Cressida, Georgina, Jupiter, Serifos Apartments, Thalassa Beach Apartments.
On Corfu: Aleka, Alexandra, Helios, Varvara, Country House.
On Kefalonia: Adrianna, Kiriaki Apartments.
On Ithaca: Kitrino.
A more comfortable arrival at Corfu
BA's new flight to Corfu from Heathrow departs 4 times per week (Monday, Wednesday, Friday and Saturday) from 2nd May to 20th September.
Whenever we fly to Corfu (and then on to Paxos and the other islands) we spend the first night in Corfu Town and quite often on the way back as well. Apart from being a beautiful town there are now many excellent restaurants and bars so a first night at one of our featured hotels (Cavalieri or Corfu Palace), dinner under grapevines at one of the nearby restaurants and catching the hydrofoil to Paxos the following morning all adds to the holiday tonic to unwind.
Many of the Paxos villa owners ask for a Monday changeover day. Monday is the busiest day for flights to Corfu and as a consequence the prices of Monday flights tend to be higher than on other days of the week. There can therefore be a price incentive to fly to Corfu on a Sunday, overnight at a Corfu hotel and then on to Paxos the following day.
Meet our Island Managers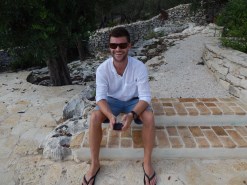 Alex is our Paxos manager. Alex has been going to Paxos since he was 6 months old.
Karron is our Kefalonia manager. Karron lives with her family on Kefalonia.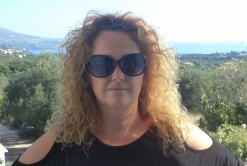 Susan White is our Ithaca manager. You can find out more about Sue at Ithaca Concierge
Patricia Taylor is our Lefkas and Meganissi manager. Patricia has spent many years on Lefkas and can introduce you to the island's hidden parts.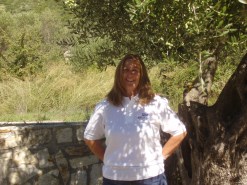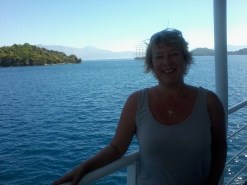 One of our managers once told me that when she was a Rep for a package holiday company on the island, she was told that their new policy was to employ the same Rep for a maximum of 2 years. It would seem that in their determination to have a fresh face they would lose the valuable local knowledge of a more experienced person.
Our managers are there to offer you all the help and advice you may need at any time but not to intrude on your holiday. The life of the island is more important to each of them than commissions earned on selling you a coach trip to an unforgettable ouzo-fuelled sunset.
The Seasons of Greece
Those of you with children at school will be restricted by school holiday dates. Good old supply and demand means that holiday prices in the peak summer season are considerably higher than in other months.
Package holiday companies will also apply a high mark-up on their holidays falling within Half Term and Bank Holidays – most of our villa owners have higher peak season prices but their end of May prices (May Bank Holiday) do not always carry this supplement.
For those of you who have more flexible dates, why not visit the Greek islands during the different seasons to vary your experience.
Spring in Greece usually arrives one month before ours. At our house on Paxos we have a 40 foot Mimosa tree and it is ablaze with sherbert-yellow blossom in early March. April normally has clear sunny days with temperatures in the late 50's but no point in choosing a villa with a pool as the water needs longer to warm up. Greek Orthodox Easter is 12th April – a colourful event which should be experienced once in your life.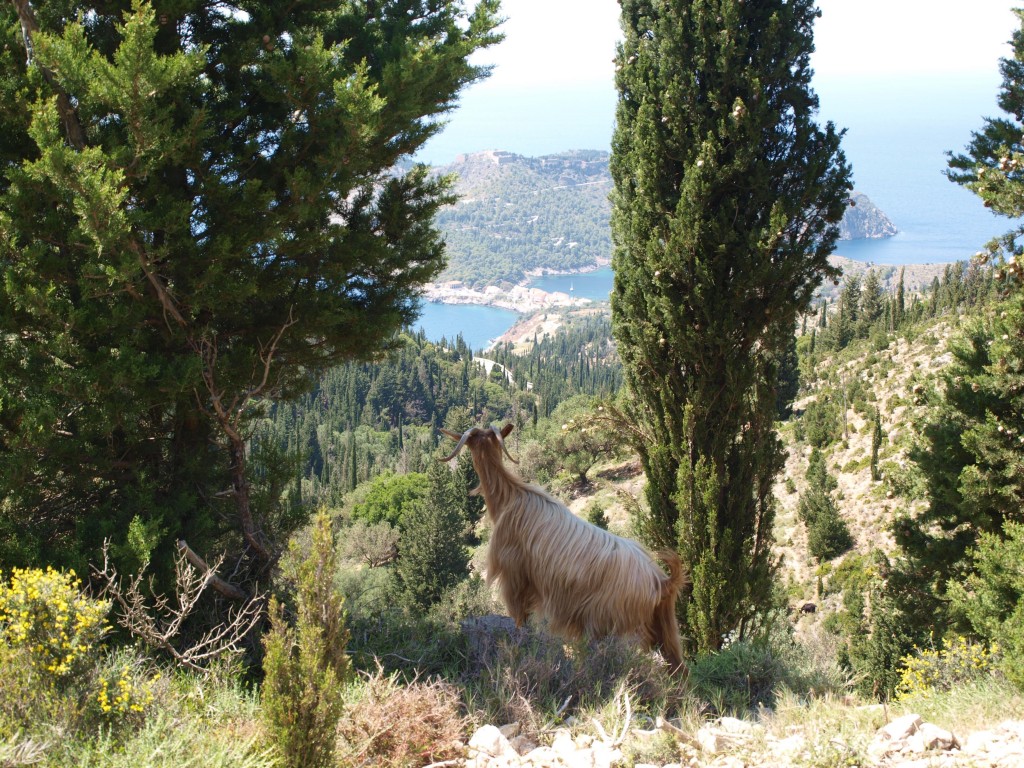 In May one can feel the days getting warmer (mid 60's). The islands are still lush with Spring wildflowers – great for exploring on goat paths through olive groves and valleys of bracken. If you haven't seen a Greek island valley lit up by the tiny flashing lights of fireflies on a warm May evening – shame on you!
In June the sea has a warmer, more sensuous welcome. There is a greater excuse to escape the midday sun and enjoy an afternoon siesta. Temperatures are mid 70's. Walkers can still enjoy island exploration – as a legacy of the Venetian occupation of the Ionian islands, olive groves provide shade for many of the island goat paths.
July and August temperatures climb into the 80's so stay close to water! You have to work a bit harder to find a deserted beach – hire a boat; pack a simple lunch of fresh bread, olive oil & garlic, feta cheese, salami, chilled retsina and baseball-sized peaches; buy more sun umbrellas than are needed – find a small deserted cove and erect all sun umbrellas to give the impression of a crowd to deter any sea invaders.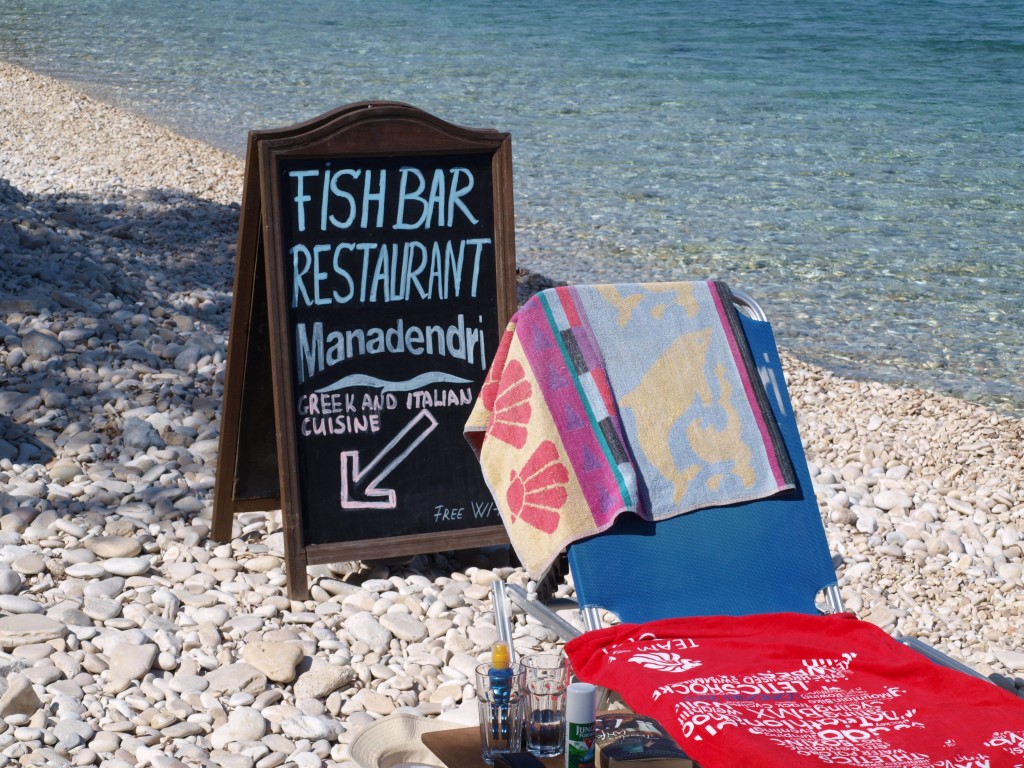 In September the sea is at its warmest and temperatures start to fall to more comfortable mid 70's. You notice more local islanders returning to their favourite waterfront cafénions now that the busier months of tourism are over and village lifestyles become less frenetic. On Paxos a Classical Music Festival in early September is another experience not to be missed.
October has temperatures in the mid 60's so ideal for walkers and for those looking for an escape from the crowds and a burst of sunshine and beautiful natural surroundings before the onslaught of a dank, dark British winter.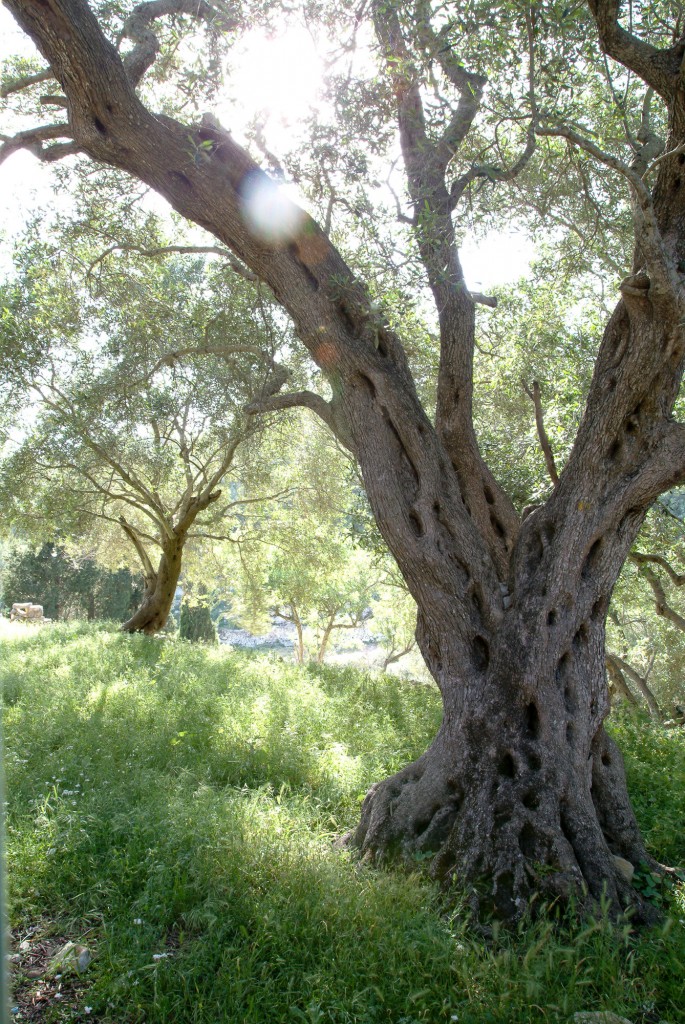 Do you like garlic? Have you tried olive oil infused with garlic? Pour a generous amount of olive oil into a small, empty water bottle and add crushed garlic. Leave for as long as possible and take with you on beach picnics to be poured over hunks of fresh bread.
"Pa amb oli" means "bread with olive oil" in Mallorquin, and it is as commonly eaten in the Balearic Islands as pa amb tomàquet is in Catalonia.
Pa ambo li Ingredients:
6 (3/4-inch thick) slices of bread (dark rye is probably best)
1 clove garlic
3 tomatoes, halved crosswise
Extra virgin olive oil for drizzling
Salt
Preparation: Preheat the oven to 350ºF. Place the bread slices on a baking sheet and toast in the oven for 5 minutes, or until golden and crisp. Remove from the oven and immediately rub 1 side of each slice with a cut side of the garlic. Then rub the same side of each slice with the cut side of a tomato half, pressing a little to squeeze some of the pulp and seeds onto the bread. Drizzle olive oil over the tomato and sprinkle with salt. Serve while the bread is still warm and crisp. Yum.
Fireflies
A friend on Paxos once told me that as a young boy he caught fireflies in a jam jar to use as a lantern when walking back home through the olive groves.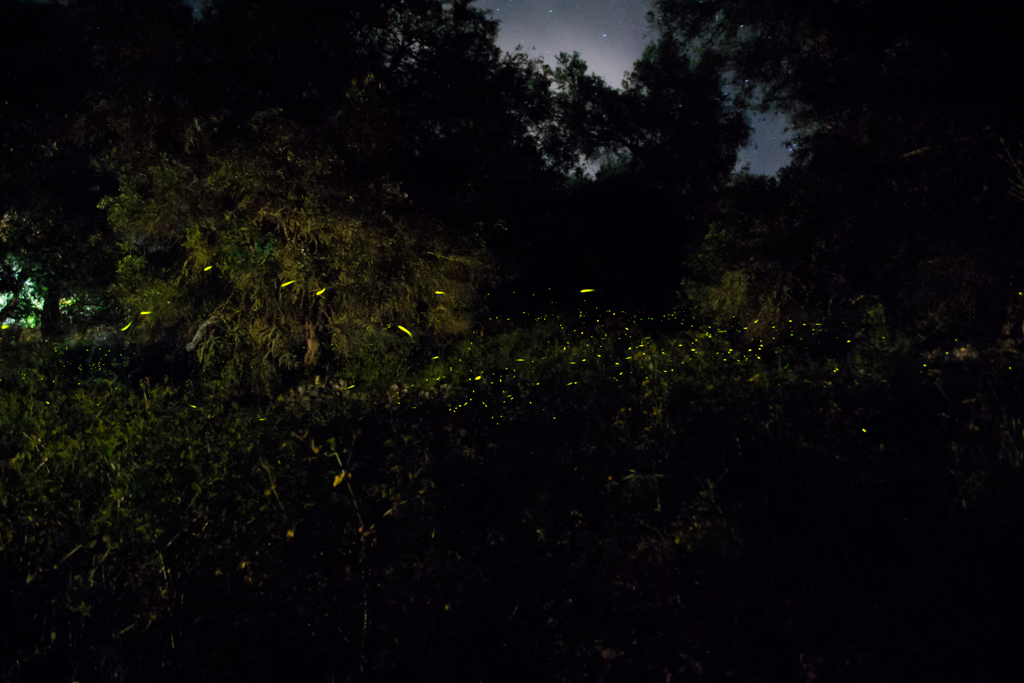 There are more than 2,000 species of fireflies, or lightning bugs, and they are actually winged beetles. Typically only seen in the summertime because they thrive in warm and tropical environments, a firefly's glowing mechanism serves several purposes.
However, the blinking patterns of the firefly's abdomen remain a mystery, as scientists are unsure of whether the patterns are controlled by the insect's nerve cells or oxygen supply.
Adult fireflies shine different intermittent signals to grab the attention of possible future mates. Flash patterns vary from short burst to a long continuous flashing sequence, and different firefly species have their own unique successions of light, making it easier for compatible mates to find each other.
Both male and female fireflies turn on their green lights when choosing a mate, and use their blinking lights as a means to communicate during courtship.
Fireflies appear to light up for a variety of reasons. The larvae produce short glows and are primarily active at night, even though many species are subterranean or semi-aquatic. Fireflies produce defensive steroids in their bodies that make them unpalatable to predators. Larvae use their glow as warning displays to communicate their distastefulness. As adults, many fireflies have flash patterns unique to their species and use them to identify other members of their species as well as to discriminate between members of the opposite sex. Several studies have shown that female fireflies choose mates depending upon specific male flash pattern characteristics. Higher male flash rates, as well as increased flash intensity, have been shown to be more attractive to females in two different firefly species.
Paxos Big Brother
The Genesis Taverna on Gaios waterfront have set up a live webcam – have a look to check out the weather: Paxoswebcam
Return of the Ionian Seaplane?
The hydrofoil between Corfu and Paxos takes 1 hour. I can remember when the only connection between the islands was by caique and it took up to 5 hours.
Eight years ago a Canadian company set up a seaplane service connecting Corfu, Paxos and Ithaca – the flight time between Corfu and Paxos was just 10 minutes (plus around 20 minutes to get out of the port to reach the "strip").
It is reported that the Greek Merchant Marine Minister Miltiades Varvitsiotis (try saying that after a few drinks) and Deputy Infrastructure and Transport Minister Michalis Papadopoulos recently signed a decision "paving the way for the country's first official hydroplane on the Corfu coastline".
The strip, which is to be operated by the island's port authority, will be able to serve Greece's first fleet of hydroplanes and improve connections between the islands and mainland Greece. Watch This Space.