Our newsletter brings you Warm Wishes and a Few Things New for the New Year.
Our office has some new family faces. Alex's wife, Catherine, has joined our team. Catherine (Cat) has spent three years on Paxos as a Representative for Ionian Villas and Scott Williams. She has visited the other Ionian islands and will be revisiting in May.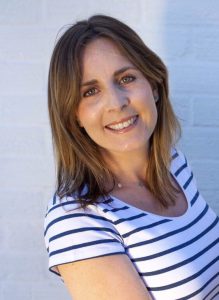 Alex and Cat's son, Archie, was born last September and will be on the May familiarisation trip to the islands!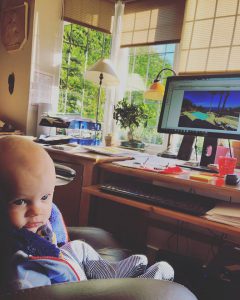 For us, 2017 was the busiest and also the longest season – May and October in the Ionian are becoming more popular for warm weather escapes from more temperamental northern European climates.
May and October are possibly the best months to explore the islands on foot. Sea water and swimming pool water can, however, be bracing in May so a stay in a private apartment (with a good sea view) on the outskirts of a port or village, is fun and economical. For example:
Mermaid Cottage on Paxos has Loggos waterfront as a doorstep and in May is £570 per week.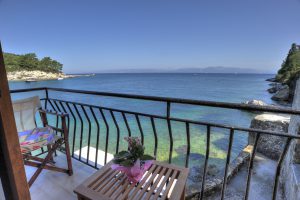 Katy's Apartment on Kefalonia has Fiscardo as a doorstep and is £500 per week in May.
We have added some new Ionian properties to our 2018 programme:
On Paxos
Avra for up to 5 people.
Elpitha for up to 5 people – and its sister villa Simeoni.
Kolomboki for up to 6 people.
Korpithi for up to 4 people – and its sister villa Loula.
The Levrecchio Villas – 3 adjacent villas each for up to 4 people.
Petrino Spiti for up to 10 people.
Polimnia for up to 6 people.
Valentina for up to 4 people.
Zoe for up to 6 people.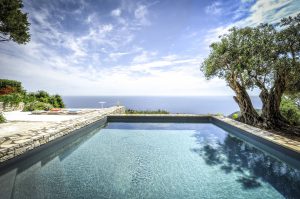 On Ithaca
Areti for up to 7 people.
Limonia for up to 8 people.
The Loutsa Retreat for up to 8 people.
On Kefalonia
Frappa for up to 8 people.
Frappa Cottage for up to 3 people.
Grace for up to 6 people).
Paradiso for up to 7 people.
Rea for up to 4 people.
Sea Breeze for up to 12 people.
On Lefkas
Sonata for up to 6 people.
On Corfu
Perivoli for up to 10 people.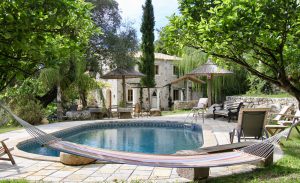 Ionian Island Hopping
Inter-island communications are improving. For 2018 there is talk of the seaplane returning to link Corfu and Paxos and possibly the other more southern Ionian islands. We have also heard that a new ferry is being operated between Corfu, Lefkas, Kefalonia and Zakynthos. Sky Express already operate a flight linking Corfu, Preveza (for Lefkas), Kefalonia, Zakynthos and Athens. Apart from the regular inter-island hydrofoil and ferry services it is now possible to charter a private speedboat.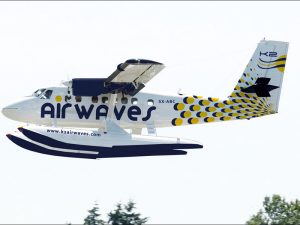 We understand that an island hopping holiday may not appeal to families wanting to limit overall travel but with this new choice of transferring from one island to another it can be seen as an exciting alternative.
And if you are a couple with more flexible time on your hands – let us know if you would like us to tailor-make an Ionian Island Hopping trip for you.
Talking about flights – there's a new BA flight from Heathrow to Kefalonia starting mid May 2018 – Tuesday and Saturday departures.
New Greek wines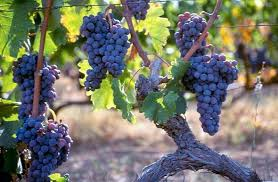 In October last year we went to the London Greek Wine Festival at the West Handyside Canopy in Kings Cross and sampled many of the 130 distinctively delicious and diverse Greek wines being showcased. The Festival, organised by The Greek Larder will happen again next October so check their websites for dates.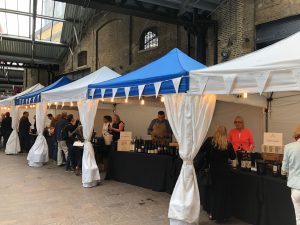 For many of us it is difficult to know what wines to sample when on holiday in Greece. The ubiquitous and often bland "house wine" poured from taverna boxes will not show off what Greece is now producing.
On Paxos there is now an opportunity to explore the tastes of the grapes, regions and wineries of Greece from the comfort of your holiday villa. Andreas stocks some excellent wines from wineries he has selected from his annual research trips (someone's got to do it!). He has his wine shop in Lakka but with a few days notice he can bring a selection of wines to your Paxos villa. He will give you an interesting history to the making of each wine. Best to give him a few likes & dislikes so he can tailor the selection for you.  Then – when you return to Paxos for your next holiday you can arrange for Andreas to deliver your favourite wines for your arrival!
We came across an interesting blog about some of the Greek grapes
New hideaway bar in Corfu Town
The Palace and gardens of Mon Repos, surrounded by hillsides of pine forest, stand above the sea on the outskirts of Corfu Town.
Mon Repos Palace was built as a summer residence for the British Lord High Commissioner of the United States of the Ionian Islands in 1828. When the Ionian islands were ceded back to Greece in 1864, the Palace became the residence of Greece's King George 1. The Greek royal family used it as a summer residence up until King Constantine II fled the country in 1967 and the Palace was repossessed by the Greek State.
Several royal births have taken place at the villa, including those of Prince Philip, Duke of Edinburgh on 10 June 1921, and Princess Alexia of Greece and Denmark on 10 July 1965.
The Palace and its gardens are now being used as an archaeological museum.
At the foot of the Palace's forested hillside a sheltered beach, once the bathing spot for the Greek royal family, is now open to the public and has an excellent café bar and restaurant. "The Royal Baths" is close to Garitsa waterfront but its walled gardens (bordered by around 50 old-school, wooden changing huts) are a peaceful escape from the world outside – well worth a visit if you have time on Corfu.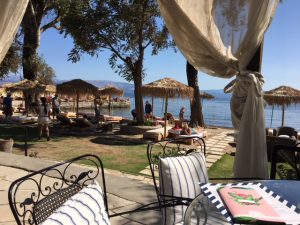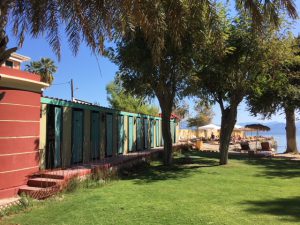 If you feel like a return to the Ionian this year and need some ideas – call us!
If you have time – add us as a friend on Facebook and give us a Like or follow us on Instagram for some Ionian holiday inspiration!
We wish you all the very best for 2018 – may all your dreams come true!
David, Vivienne, Alex, Cat & Archie.