I was once managing director of Greek Islands Club. When we had offices in Old Isleworth it meant a 2 hour drive from home in West Sussex and then a 2 hour drive back home. The M25 was my companion and pacemaker. I now look after Ionian Villas from our home in a little Dorset village and occasionally tune in to radio traffic reports to see how my companion of old is faring. Not too well by all accounts.
My wife and I travel round the Ionian islands for 3 weeks in April/May and 3 weeks in September/October. Refreshing perks of the job but also very important to give knowledgeable advice to prospective clients and to retain good personal links with all our property owners. A plate of grilled octopus by the sea beats the M25 snarl-up any day.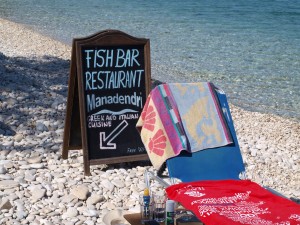 This May we spent Greek Easter on Paxos and then took the hydrofoil to Corfu and then a SkyExpress prop plane to Kefalonia – the ubiquitous grilled octopus at Sami port and then a 30-minute ferry to Ithaca, where we stayed at Dexa Beach House just a few steps away from the beach.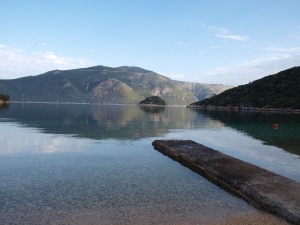 Ithaca hasn't been tamed or compromised by tourism – it has a beautiful wild side, hidden hamlets, inquisitive locals – many with a lingering Australian or South African twang (many fled Ithaca during the civil war after the 2nd World War), a welcoming lack of coastal development and stunning views from mountain top monasteries.
Back to Kefalonia where we stayed at the superb Avra Suites – above sandy Makris Yalos beach. 5 Star accommodation with only the sound of the sea and the occasional sea bird. Memorable breakfasts procured from the owner's garden of fruit trees, strawberry patch, vegetable garden and the magic touch of Eleni the creative chef.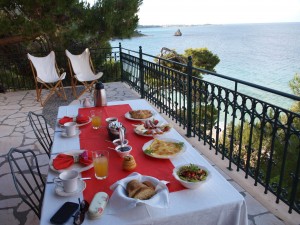 Then another Sky Express plane hop of 15 minutes to Lefkas (via Preveza airport) where we stayed at Villa Yasmina – above the west coast with our own theatre of an orchestra pit of silver olives, a stage of Ionian sea and a backdrop of oooo – arrrrr sunsets.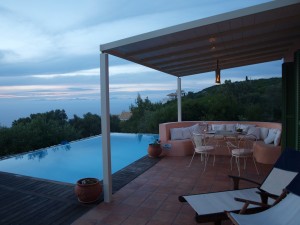 On Lefkas' east coast port of Nidri a ferry takes 25 minutes, passing Skorpios and other small islands, to reach the tiny island of Meganissi. We stayed at Villa Arenaria – a few paces away from a secluded beach. Vasco, the ever-smiling owner, is half Greek and half Florentine.
Sky Express then took us to Corfu where we met up with Jan Manessi, who owns The Manor House– possibly the most beautiful house in the Ionian.